---
13.h - Europe is looking forward to news from the U.S. labor market, the PSE is rising due to banks and ČEZ, Orco +25%, crown oscillates
European stock markets during today's morning uniformly reinforcing. Investors perceive positively yesterday's Fed minutes, which indicated that the issue of record low dollar interest rates would not be tied to time, but for some specific macroeconomic variable. It appears, therefore, that there might be "real time". Also positively influence expectations afternoon data from the labor market, while Wednesday's report for the private sector surpassed market expectations, which indicates the possibility of such a development as well as for the whole economy. Completely ignores market speculation that the IMF next week will reduce your regular forecasts estimate the dynamics of global economic growth.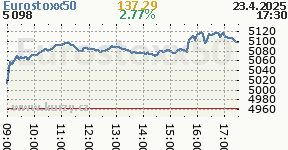 The Prague Stock Exchange during the morning followed by positive external developments. Central role likvidity only slowly starting to bank shares and CEZ, up 25% to ascribe akcie Orca, which are heavily speculated on the importance of recent reports on the conversion of debt into shares and the impact of this conversion on the company and its market valuation. Debt conversion took place at the price of EUR 4 per share.The current share price could therefore be seen as deeply undervalued. TO2 shares outperformed other morning after correction effort and again matched to the last conclusion. Sister O2 Germany will soon hold IPO. Parameters subscriptions and interest in it most likely says a lot about the current valuation of the company. Parent Telefónica SA also declared that it will offer new shareholders in Germany interesting dividend yield, which, moreover, had gradually increase. This aspect is important for action HC2, because it shows that their own high dividend yield could be further sustained.
Significantly today also made better AAA, which shows messages from the last days of the development of sales of used cars.
Exchange

Online

1:09:07 p.m.

Name
Course
Change
Volume
Yesterday
AAA

21.83

3.76%

0.32

million

21.04
CETV

133.41

0.31%

5.46

million

133.00
ČEZ

730.51

1.11%

133.37

million

722.50
ERSTE BANK GROUP

453.76

1.28%

55.60

million

448.00
FORTUNA

87.31

-0.22%

0.00

million

87.50
KITD

54.01

-2.69%

0.44

million

55.50
COMMERCIAL BANK

4081.05

2.51%

224.26

million

3981.00
NWR

86.26

0.53%

4.02

million

85.80
ORCO

57.96

23.32%

4.38

million

47.00
PEGAS NONWOVENS

481.51

0.31%

0.00

million

480.00
PHILIP MORRIS CR

11,390.05

-0.03%

2.28

million

11,393.00
TELEFÓNICA CR

403.65

-0.01%

57.30

million

403.70
UNIPETROL

172.51

0.10%

1.20

million

172.33
VIG

843.03

1.07%

2.91

million

834.10
TOTAL

491.56

million
Euro weaker today oscillates below yesterday's conclusion to the dollar, the crown oscillates in both pairs.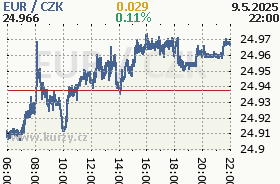 ---
---
13.h - Evropa se těší na zprávy z US trhu práce, BCPP roste díky bankám a ČEZ, Orco +25%, koruna osciluje
Diskuze a názory
Na dané téma nejsou žádné názory.