---
Summer will hit U.S. corn
Extreme drought last summer was a record for the past 80 years. The soil in the U.S. was dry in places up to a meter below the ground. Photos yellow with withered crops were circulated on Twitter between farmers and some of them we are showing on our website.
With drought was a record low closing stocks vs. projection. consumption in the marketing year 2012/2013, which ends this August. Sharp rise in corn prices from the level of 520 in June to 700 in September was a manifestation of it. Since then, however, the price of maize gradually declined due to weak exports, which amounted to 14 March 2013 only 45% compared to 2011/2012.
Despite weak exports in the internal market, it was difficult to buy maize and CASH on the physical market prices continually rising. Situation in other words CASH hoisted during the last few months a national basis in the U.S. at historically high levels, viz.chart below, since the market CASH replace the FUTURES market reacted to weak exports.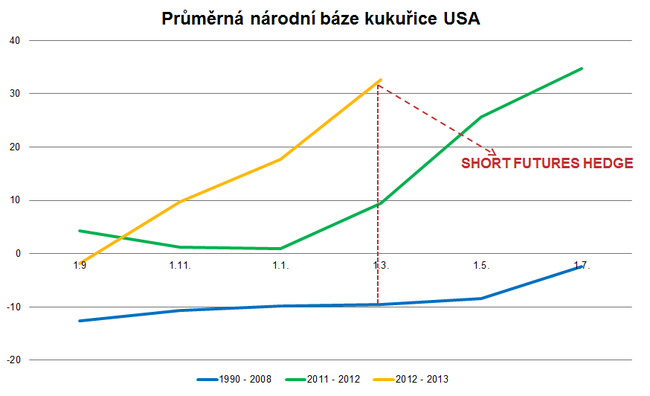 High base penalizes cash buyers who must diversify their price risk in hedging, in this case, short futures. Another bearish pressure is seasonal spring sale where the price of corn in May 2012 was $ 5.50 per bushel and the May contract current price is around 7 USD per bushel. Strong base, plan to seed more acres due to the higher price of the last dry summer and price competition from Argentina and Ukraine are all BEAR factors that support the spring sale of maize.And we of YOUTRADER therefore buy 480 puts at the September corn contract, which earn at least the spring sale.
Attention, it is necessary to realize that the entire balance is currently bearish supply / consumption requires continued good weather for crops, and from May through the summer not only in the U.S. but also in China. This means that the impending heat and drought in the U.S. and China in the summer, and also in May when planting, catapulting prices up. In addition, the International Organization for Oceanic and Atmospheric assumes that drought trend will continue this year. Other real engines almost annual summer rally (prices) are weaker dollar at the time, higher demand for feed and inflation (CPI).Therefore, in the summer of this year we expect a nice bull market, which will also take part and buy the September futures contract of around $ 5 per bushel, we sell more of PUT options and portion of the profits will be used as a convenient stop loss for a summer rally, when at least double the profit .
We purchased 10x March 28, 2013 September 480 put options for 250 USD/1put. The value of around 1,000 USD/1put (delta approximately 0.25, futures approx $ 5.00) 6x sell options and futures buy 1 September, we will hold further 4x put. Gain on put options to participate in summer "rally" without using stop-loss. Timeframe 6 months, gain 5 to 10 thousand. USD 2.500 USD risk (put premium)
More information can be found at: http://www.youtrader.eu/obchodni_tipy
March 29, 2013
Ing. Jiří Barta
YOUTRADER, Ltd.


Jan Novotný
- nezávislý obchodník s komoditami a jednatel společnosti YOUTRADER s.r.o.
Jiří Bárta
- nezávislý obchodník s komoditami a jednatel společnosti YOUTRADER s.r.o.
Jsme zkušenými tradery a aktivně obchodujeme s komoditami na světových burzách. Obchodováním komodit se zabýváme od roku 2005, kdy jsme objevili obrovský potenciál tohoto zajímavého oboru. Nejvíce se nám na obchodování s komoditami kromě výnosnosti líbí, že se jedná o skutečně férové tržní prostředí, kde svůj úspěch ovlivňujete Vy sami. Přímé obchodování na burze se stává čím dál více populární a dostupné, což bohužel vyvolává masivní dojem rychlého a snadného zbohatnutí. Ovšem pouhé otevření obchodního účtu a získání kvalitní platformy od brokerské společnosti k dosažení zisků nestačí.

Společnost YOUTRADER s.r.o. jsme založili za účelem zvýšení povědomí o dostupných finančních možnostech, s cílem dosažení úspěchu klienta v praxi. Pořádáme jedinečné kurzy, kde učíme klienty jak úspěšně a samostatně zhodnocovat kapitál na světových burzách. Kromě pochopení technických a fundamentálních aspektů obchodování se zaměřujeme také na psychologii hromadného obchodování a zvládnutí vlastní psychiky obchodníka. U nás dále získáte aktuální cenné informace pro okamžité otevření Vašich obchodních pozic a konkrétní obchodní strategie, které sami obchodujeme.
---
Po 9:01
EUR.USD
Martin Bartoš (LYNX)