---
Get advice on how to safely and conveniently evaluate their money

Increasingly, we realize how important it is regularly the value of their money. For this purpose we use mostly short-term savings, but which we do not provide sufficient profit. Much higher yields achieved with other products in the longer term. But how to choose the best strategy? We found a solution - Investment Calculator Commercial Bank.
Commercial Bank launches investment calculator on its website this year as the first bank on the Czech market. This is a unique application that allows you a few minutes suggests what savings and investment products to use that you have saved in the specified period your desired amount.
Working with the same time very simple. Simply enter it into the amount you plan to regularly save or invest a lump sum, and his idea of where you want to use the money for their needs and in what quantities. The big advantage is that investment calculator calculates in advance with the fact that some of the savings or investment products you already own.
The calculator will evaluate your options and suggest which products are best used for regular savings and where to invest their funds at once. The proposal also takes into account also the maximum profit from the benefits, such as state aid or various tax advantages.
But this information is not yet final. The complexity of investment calculators lies in the fact that it is able to calculate the total amount of your funds for your chosen period.It is up to you whether you are planning retirement savings or investment in a shorter time. Simply enter the number of years over which you want the value of their money, adding the planned withdrawals during the period and get a complete overview of how much to save money from their own resources, how much will be expected state aid and what is the total expected value. And all this even in the graphical display.
Investment Calculatorcertainly completely replace the role of personal adviser, with him so he can arrange a meeting directly within the application. Just insert it into your phone number, a bank employee will call you and you can arrange a personal meeting. Consultants Commercial Bank will provide free consultation and financial plan together We create the behavior to the last detail.
The most difficult on the whole procedure will eventually figure out how your money in the future will use.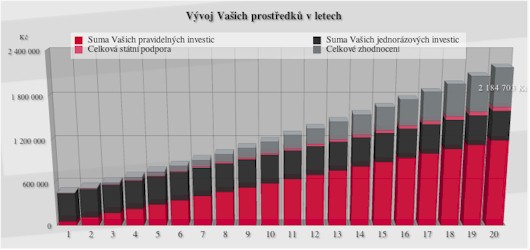 Display graph is an example of one of the possible outcomes investment calculators, which contains information on the expected value for money. Expected performance but in the case of one-time investments is not a reliable indicator of actual future performance.
---
---
Nechte si poradit, jak výhodně a bezpečně zhodnotit své peníze
Diskuze a názory
Na dané téma nejsou žádné názory.