---
Lever ETFs and short ETFs
ETF stands for Exchange Traded Fund (the Fund traded on public markets). Already in previous works, we introduce you to the ETF stock indexes, individual countries or regions and commodities. In the last part of our series will focus on specific ETFs that make it possible to earn even in a declining market (so-called short ETF) and ETF, which in themselves contain the lever (the lever ETF).
Value funds is growing short, if the value of the underlying asset declines. So if you want to speculate on the decline in wheat for example, you can buy short ETFs to wheat and capitalize on the decline of the commodity. Similarly, you can also use the index drops, basket of equities, currencies, etc. Short ETFs usually used as short-term investments during the period when the underlying asset is on a downward trend. Investors can use these ETFs as well as a portfolio. May, for example its position in the stocks, where speculate on growth, buying short ETFs provide a given stock index.
Leverage ETFs allow investors to capitalize on the growth or decline (in the case of leverage short ETF) of the underlying asset using leverage. Ie. their value is growing much faster (as used Levers - usually 2x and 3x) than the price of the underlying asset.
Attractive opportunities was recently buying leverage the silver ETF. The commodity rate increase of its value surpassed even his eternal "golden" rival.Investors who put before 3 months of free resources to leverage the purchase of the silver ETF, you gave a nice Christmas gift, evaluate its portfolio of nearly 100%! This investment has become the most profitable in the table below.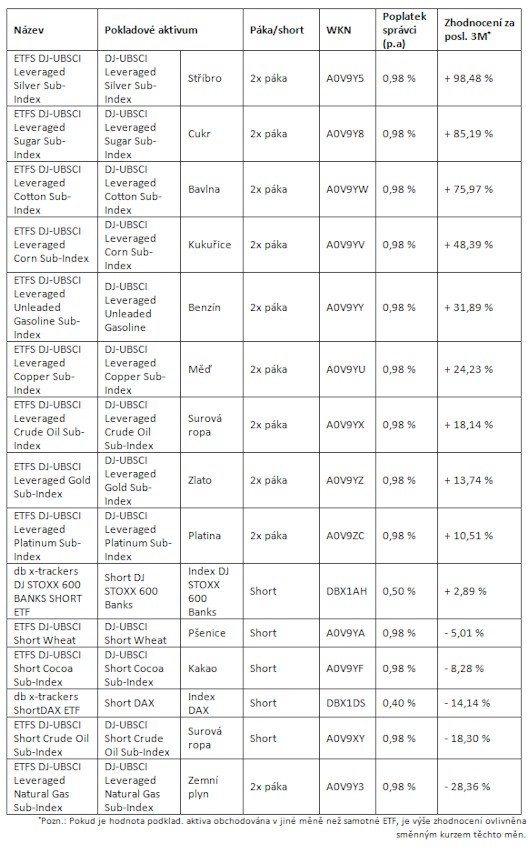 Other parts series about the ETF can be found in the following reports:
Meet the ETF - Exchange Traded Fund
Selection ETF by region
Selecting ETFs by sector

---
---
Páková ETF a short ETF
Diskuze a názory
Na dané téma nejsou žádné názory.