---
Social responsibility - a chore or a great marketing tool?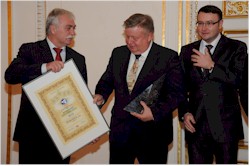 The world is growing every year of the responsibility towards society organizations. Web presentation of large firms are filled references that illustrate how this or that company committed to the concept of social responsibility, known by the acronym CSR. But it is really just a new obligation, which the company makes pressure and media legislation, or companies can cleverly run CSR policy to pay?
As in many other areas in the understanding of social responsibility is the Czech Republic for the developed world a little behind. First the possibility of a new "tools" in the battle for customer perceived large companies, especially those with foreign ownership. Foreign corporate culture is reflected in their philosophy and emphasis on the concept of CSR and its use in marketing and advertising. Lie Idle but even the largest Czech companies that can quickly orientate trends in global and social responsibility so I quite quickly found a place in the top echelons of the Czech economy. Much worse are doing but medium and small businesses that still do not realize the importance of CSR.
The world is significantly changing modern management approaches. More and more it is clear that the public perceives the company not only as suppliers of products and services, but also assesses their impact on the local community and their willingness to participate in solving the problems of sustainable development, "says Robert Szurman, chairman of the quality of the CR" is no longer a priority immediate profit maximization, but also in achieving its long-term perspective. And this is only possible with well-elaborated strategy of social responsibility. "
Of course, the customer is looking for more favorable price and good quality and design, but more and more aware of the plundering of resources, pollution and abuse of employees can not be tolerated indefinitely.According to slowly begin to change and buying preferences and customers, especially to the west of us are beginning to prefer companies with which they feel to your surroundings behave decently.
Of course, like every trend in consumer behavior may be a positive perception of CSR used in marketing. A company with a well-elaborated the concept of social responsibility can be much easier to reach customers and offer them your new products with added value: the emphasis on sustainable development.
"It shows that behavior in accordance with the principles of CSR in the business pays. Philanthropy is not just for "good conscience" management company, but also helps in enhancing the credibility and business reputation in the marketplace. It increases employee loyalty, reduce the risk of loss of disputes with trade unions or even strikes, helps build trust and understanding in relation to the regional government which is the basis for a successful dialogue, coexistence and also to achieve good economic results, "explains David Vorlíček, Vice-quality CR.
Unfortunately, many companies still do not know how best to grasp the issue of Corporate Social Responsibility. That is why the Council with the support of the quality of the CR Ministry has prepared a program "National Award for CR social responsibility" (national program) and "The prices for the President for Social Responsibility" (regional program) that can assess the current activities of the company in the field of CSR and also show the direction in which company should take in the future.
Model evaluation of CSR National Prize in the CR is based on the requirements of applicable international (UN, EU, OECD), its own methodology (model Korp) was established in cooperation with the Fair Business Association.Winner of National Award for Social Responsibility CR is able to obtain a certificate in accordance with auditing standards GRI, which is now internationally recognized prestigious corporate social responsibility.
This year we won this award two major Czech companies: category of employees to 250 and won the company Vitkovice over 250 employees category was awarded socially responsible company CEZ.
Competition for the Prize of the President is the easier it is intended primarily for small and medium businesses. So far only involved in the Moravian-Silesian Region.
Year 2011 brings new opportunities in the area of ??social responsibility to any one of Czech companies. It will be interesting to see if this challenge and seize some of the small and medium companies that CSR has not used as a marketing tool.
More information: www.narodnicena.cz ., www.npj.cz.
---
---
Společenská odpovědnost - nepříjemná povinnost, nebo skvělý marketingový nástroj?
Diskuze a názory
Na dané téma nejsou žádné názory.