---
Papers
  |  June 10, 2011 14:47:35
Golden Crown announced the winners for 2011
Golden Crown has already acknowledged the ninth best financial products in 15 categories, as announced annually by novelty and gave a chance to vote again to clients in business and Prize Award to the public.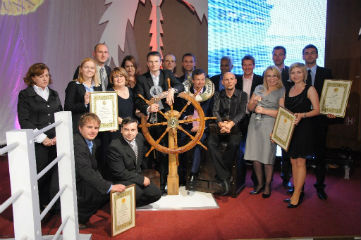 Who expected that most awards in the competition to take away large financial institutions that operate with an overview of the Czech financial market, was perhaps a little disappointed. But if you carefully follow the last three years of the Golden Crown, is sufficiently obvious fact growing emergence of smaller financial companies that are able to flexibly adapt to market demands, respond more quickly to changes and better meet the needs of clients. They create the healthy competition in the market.
This was demonstrated in the main category New Year, in which latter place was occupied by a current account with no fees for this year's rookie entrepreneurs in the market Fio Bank.Even happened to succeed in the novelty of just two products liability insurance as this year. First place won Kooperativa NA100PRO liability insurance and third party liability insurance without any obligations on reporting damages Czech insurance company. In terms of clients is really about breaking news and financial due recognition to the Academy. Incidentally Financial Academy, which evaluates products, had 385 members this year, nearly fifty more than last year.
In the category of accounts last year's winner was replaced by rookie Fio Account ING checking account with no fees, ING Account ended the other. In the category of electronic banking, like last year and this year led masterfully eKonto Raiffeisenbank.New Construction category winners have savings. First place went to building savings for children + Friend Wüstenrot building societies. Second place goes to the loan attractive Moravian 3.7%, building societies, which until last year a few years dominated this category. In the category of Mortgages for the third time won the Revolutionary mortgage UniCredit Bank, the second was Classic Mortgage Offset Raiffeisenbank. Even in times of crisis is subsiding more demand for loans and consolidation loans, as evidenced by the same name first product of GE Money Bank this year in the category of loans. CSOB is the second loan for green living. In the category of credit cards again won AXA card that saving for retirement, and in this respect is still a unique product.
The insurers defended last year's victory in the Czech insurance company life insurance savings with insurance and life insurance Flexi Kooperativa with the new mandatory liability NA100PRO. The best pension is Allianz pension fund with a stable yield of 3%. The new winner may be reported in other categories. The mutual funds are best placed Horizon Invest Conseq, the second is a popular CP Invest, which has long-term stability and success. In the category Leasing Optimal won this year with flexible leasing services company CSOB Leasing, which occupied the second place and funding for the VIP service, claims handling.
In products for businesses with established itself Fio business bank account with no fees, fast Business Loan Raiffeisenbank Kooperativa insurance for entrepreneurs Trend CSOB Leasing and its operational leasing fleet. The price of entrepreneurs won mBusiness mBank Account.
Record attendance, indicating the extraordinary interest, the price to the public this year. It was handed over more than 144 000 votes. Top ranked last year as the Internet Bank, GE Money Bank, the second and third mKonto mBank Low hyposplátka Raiffeisen building society. The most successful of this year, the insurance company Kooperativa, who won three gold crowns.
More information and complete the 9th year can be found at the Golden Crownwww.zlatakoruna.info.
---
Last news from the section Papers:
---
Zlatá koruna vyhlásila vítěze za rok 2011
Diskuze a názory
Na dané téma nejsou žádné názory.