---
About us
  |  September 27, 2011 15:25:37
Kurzy.cz significantly strengthened in the summer traffic

For most media, including the Internet, means the summer months fall in activity of readers, users, and therefore a decline in readership, traffic. Until this year, this was also our publishing AliaWeb issued by the largest Czech financial web server, the server Kurzy.cz. Year 2011, however, is in this respect very different, since virtually all indicators recorded upward trend.
Concise view of the curve depicting the traffic for this year.
Compared with most competitive servers is visible not only growth but also significant.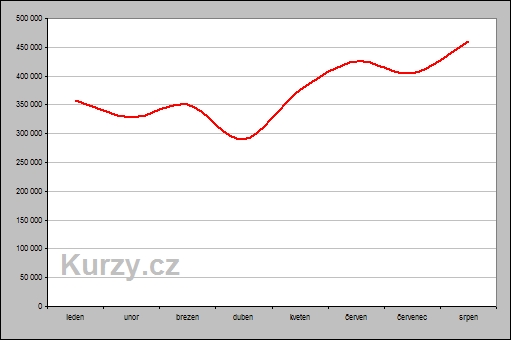 Server Kurzy.cz recordedmonthly unique visitors increase by almost 14% of the total 460 thousand RU. The growth recorded despite the fact that it was the summer when traffic is generally lower than in other months.
An even higher increase can be seen at the PV parameter, ie page views. The increase is 60% to nearly 9 miles PV! How do you explain the huge numbers?
"The summer months mean for most of the weaker activity of media users, this is due to vacations and the fact that every summer they spend most of the active
and computers and spend less time than usual. However, we also succeeded in spite of these factors increase the traffic to the server. The increase is mainly due to turbulence in capital markets, fear of economic recession and the associated increased activity of investors, which attracted our website more users.Another factor that influenced the attendance is still ongoing treatment site. This redesign is in itself not long to wait, so now is the reconstruction of some parts of the content. We believe that the trend in increasing traffic to continue, and that we will soon jump in attendance Aktuálně.cz economic section. It is another of our targets. "Said Peter Hanisch, Managing Director and continues Kurzy.cz
"We are pleased that the growth of traffic is involved in a major and growing interest in the Business section, which in August zaznemanela 215 thousand unique visitors.
Even this section continues in the dynamic growth and the interest of users. Given that it is the youngest section, so that is not yet known, so still plenty of room for further growth. "
Kurzy.cz Server has been one of the largest long branch servers, thematically focuses on investment, finance and business osobvní. Kurzy.cz belongs to a group of servers AliaWeb publishing, which includes Podnikani.cz , Zájezdy.cz and Bydlet.cz
---
---
Kurzy.cz v létě výrazně posílily návštěvnost
Diskuze a názory
Na dané téma nejsou žádné názory.