---
What to buy shares in the event of withdrawal of Greece from the euro area?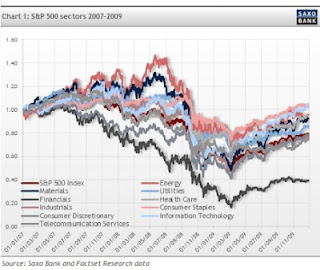 Greece represents a huge risk to financial markets. Leaving Greece from the euro area, as well as the departure of any other weak European countries, would result in massive withdrawals of money from local banks. After that, probably followed by unpredictable shifts money away from Europe, and investors would probably dispose of their shares and would rather invest in U.S. bonds.In any case, the global stock markets won a significant change in capital losses.

If on such capital movements occurred, the predicted and actual corporate profits would be useless. Even so, some sectors in a fit of irrationality and short-term concerns remained resilient, while others would be hard won. Nobody but not surprising that most suffered from cyclical sectors such as energy, minerals, consumer sector as well as the last and banking.

This chart has all to see, but some can be misleading because it is entirely dependent on the time horizon. We can also see the maximum decrease (drawdown) - although I think it is not a true indicator of the risk - which shows the difference between the highest and lowest performance of the sector. The graph shows that the "safest" assets are not telecommunications companies or public services (utilities), but the consumer sector and health care. This is not against common sense, but rather it is surprising that low growth and the risk of telecommunication and public services are in crisis, the best solution. Both of these sectors is the lowest value of risk indicators beta (10-beta is the telecommunications 0.61 and utilities at 0.57). So how would therefore be an investor follow?

Often we forget that the health care sector is part supercyklu, thanks to the burgeoning middle class and the aging population in developed economies. Interesting not only bring profits investing in volatile sectors. If we look at the cumulative annual growth in earnings per share (EPS) in the last five years, health care sector grew by 10 percent annually, even during the five years nejrozkolísanějších history of financial markets. If, hypothetically speaking remained the same valuation, earnings in this sector could be 61 percent (on equally weighted basis) during the five years of really intensive. And this is a wise and patient investor a very nice reward. Although in 2006 the return of the sector due to its high valuation of only 34 percent now, the average P / E (ratio between the market price of shares and earnings per share) compared to 15 then 40 (all weightedevenly).

Let go of your head so complicated business and simply buy shares of good companies dealing with health care, which focuses on developing markets and an aging population and also has a decent valuation. Then it would be your investment prosper. And if you want to choose one particular company, simply focus on investment in the sector. You will be earning in good times and bad, so you can not go wrong.


Matt Bolduc, equity analyst at Saxo Bank

Globální online investiční banka
Saxo Bank je globální investiční banka specializující se na online obchodování a investice na mezinárodních finančních trzích. Saxo Bank umožňuje soukromým investorům a institucionálním klientům obchodovat s FX, CFD, cennými papíry, futures, opcemi a dalšími deriváty a poskytuje i profesionální správu portfolia a fondů díky svým online obchodním platformám oceněným řadou různých ocenění.
Více informací na: www.saxobank.cz
---
Last news from the section Markets:
---
Jaké akcie nakoupit pro případ odchodu Řecka z eurozóny?
Diskuze a názory uživatelů na téma: Jaké akcie nakoupit pro případ odchodu Řecka z eurozóny?
Na dané téma nejsou žádné názory.