---
You already know what is "Volksinvestment"?
Concerns about the loss of economies of Germans in favor of lavish "Southern" countries are becoming alarmingly true. 3 weeks ago appeared ECB Governor Mario Draghi (Italian) with the words: "The mandate of the ECB is prepared to do everything necessary to protect the euro. And trust me, it will be sufficient action. As a growing premium on government bonds, breaking the functionality of the transmission mechanisms of monetary policy and fall within our mandate. " Draghi, however, these words spoken without the support of key players - the German Bundesbank President Jens Weidmann to further escalate the situation in Germany.
Germans remember well the 80th and 90 of the last century, when the market was a major European currencies - the U.S. bankruptcy in 1971 - appointed to the European Monetary System (EMS).Although the creators of this system promised exchange rate stability, the result was quite different. The condition was such that countries like Italy or France before the provisions of this system were carried out on inflation and new loans are dependent. Refused to reform, and happily living on credit. Once entered into the system together with the Bundesbank, is caught in its own trap. Mistakenly believed that the Bundesbank will buy them their francs and lire in order to stabilize exchange rates. The Germans, however, rejected these transactions, and thus not only the Italians and the French had to devalue its currency several times. All currency collapse culminated in 1992 when the fluctuation bands had to be extended to 15%. Moreover, after the currency attack George Soros Italians and the British mechanism leaves.
Bundesbank in this period was constantly under pressure from inflation countries, as well as today. All, however, was eventually "sealed" by the Germans adopted the euro (European Central Bank was established), and so debt and structural problem "solved" respectively. postponed for another 10 years. This step commented renowned economist Jörg Guido Hülsmann follows: "The importance of the ECB's new is that the first time in history there is one central European producer of fiat money, which removed restrictions on state budgets, the old system and thus opened up new ways to enrich the State or the State closely related groups. This is the real meaning of the ECB and the intention of its authors. "
We are now in a state where the southern states unsustainable debt and its current action he let the political level and at the level of monetary attack on the Germans with proposals that would finally wipe out their savings. Brussels bureaucracy and the only former or current advisors from Goldman Sachs (Draghi, Monti more here .) in this "random" chaos by trying to ESM (European financial mechanism) and the ECB on fiscal and political union. It will, however, with an aging and conservative German public agree?
Germans not only faces blackmail demands from the "south", but also its national debt. Germany's total public debt is equal to two billion euros (81% of GDP) and debt "hidden", derived from State guarantees in favor of future commitments and enacted in social spending, is estimated at an additional 5 billion euros (+ 200% of GDP). Notice further demographic development in Germany. Over the next 20 years will begin to enter retirement of baby boomers that will be placed on drawing high savings claims.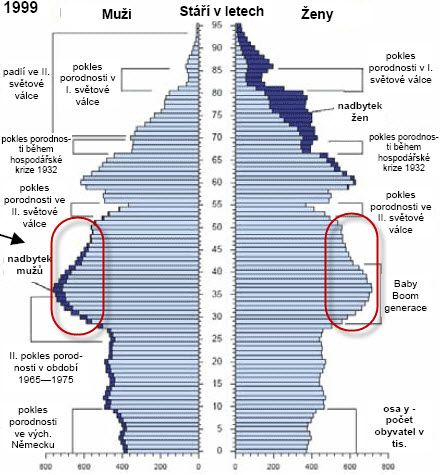 The age composition of the population in Germany in 1999 in thousands. people.
Germans are naturally under pressure and looking for solutions. Therefore, in Germany are increasingly promoting the model of a successful new concept Volkswagen Volksinvestment - ie investment in physical gold. According to the June survey of German public opinion agency FORS to the query, "which of the five specified investments considered citizens of the best long-term investment in minimum amount of timeat least three years "for gold expressed 38% of respondents. In second place was the result of term deposits with 18%, then 12% stocks, mutual funds, 8%, 3% bonds and none of these / I do not know 23% of those surveyed responded.
On 12 September should the Federal Constitutional Court to decide whether Germany will be able to complete ratification of a permanent rescue fund ESM euro area and EU fiscal pact, or delay it. Thrifty Germans - Weimar hyperinflation advised - but do not wait for a repeat. On the contrary, increasingly turn to their political leaders to appeal for leaving / distribution area and in the privacy of their savings will be "hidden" in the newly emerging hard currency - gold.
The figures speak clearly, gold from 1 First 1999 (beginning of the euro), which cost 244 EUR / ounce to enhance the current 1 300 EUR / oz. In other words, the euro gold in less than 14 years of its existence, has already lost 81% of its value.

Roman Pilíšek (1980)
je absolventem Univerzity Tomáše Bati ve Zlíně, kde se specializoval na problematikou akciových a komoditních trhů. Následně získal pracovní zkušenosti ve finančním a bankovním sektoru. Je velkým zastáncem rakouské ekonomické školy a v současné době působí jako hlavní ekonom společnosti ZLATÉ REZERVY s.r.o. Jeho posláním je publikační činnost, ekonomické analýzy a komentáře. Dále je zodpovědný za privátní divizi Private & Corporate Assets.
Společnost ZLATÉ REZERVY s.r.o. patří mezi přední tuzemské obchodníky s investičním zlatem. Pobočky má ve Zlíně a v Praze a provozuje největší internetový portál o investičních kovech www.zlaterezervy.cz, který přináší denní zpravodajství, odborné články, videa, unikátní grafy s aktuálními cenami, technické analýzy a eobchod.
---
---
Už víte co je "Volksinvestment"?
Diskuze a názory
Na dané téma nejsou žádné názory.