---
EKOSPOL: Number of "apartments on paper" in Prague already exceeds 22,000. The question remains, who put them all ...
According to the latest analysis of the leading Czech developer EKOSPOL is currently in Prague planned development projects with 50 or more dwellings, total 22,387 new flats. This number includes all flats "on paper", which have not yet begun to sell. So with those already issued a building permit or zoning decisions and also projects that are just now in the process of obtaining the necessary permits.
What is surprising is mainly the rate at which the growing number of new projects planned. Grew the number of planned flats by 12%, from 19 973 to 22 387th Compared to two years ago, when it was at the end of the third quarter in the metropolis planned nearly 16,000 flats, the increase is even more remarkable. For two years, the number of planned flats by almost 41%.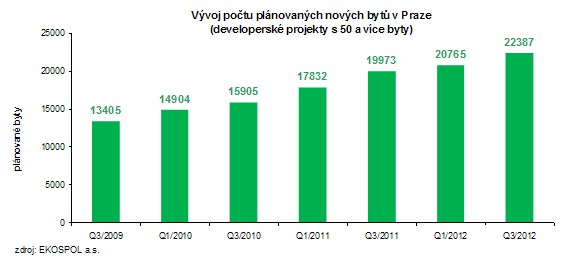 Who and for whom all this build?
More fundamental question than is planned in Prague apartments, it is rather who and who will actually build so many flats? Especially in a situation where, in Prague at around 2,500 unsold completed lagers from the period of the real estate boom. "Demand for new buildings in Prague dlouhodobě oscillates between 3 - 3.5 thousand units sold byty year. This means that plans Prague developers already sufficient for at least seven years in advance and that only the assumption that everything is sold. Which of course does not occur, "recounted Eugene Korec, CEO EKOSPOL.
In his opinion will not be overwhelming most planned flats the next ten years vůbec realized. "First, the market is not over such large quantities flats demand, of course he is not the amount of capital dostatečné silných developerů who would be released into the construction. In addition, a large part of the projects "on paper" was prepared from the beginning to the project and then only allow to sell it to another developer. But price selling ideas and those who today can afford to buy, they are still very different, "explains Eugene Korec why most upcoming projects continue to remain" in limbo ".
Prague already has five major development sites
Interestingly division upcoming projects by districts. In Prague for a long time it was determined that the vast majority of planned projects fall into one of four major development areas, which represent urban districts Prague 4, 5, 9 and 10th Newly but among large development area also included Prague 8, which is more than the current 2,300 planned apartments and the relative share of 10.6% in the immediate wake of Prague 5 (See Figures 2 and 3)


para-border-div; mso-border-top-alt: solid windowtext .5 pt ">
EKOSPOL analysts gather information about planned projects from publicly available sources - real estate, EIA database, publicly accessible databases and official records, websites development companies and developers in the expression of specific media.The planned development project means that the project is either in the process of obtaining the necessary permits or already has planning permission granted (or building permit), but the apartments in the project is not yet started to sell.
Source: TZ EKOSPOL
---
---
EKOSPOL: Počet "bytů na papíře" již v Praze přesahuje 22 tisíc. Otázkou zůstává, kdo je všechny postaví...
Diskuze a názory
Na dané téma nejsou žádné názory.