---
Czechs buying children cell phones earlier than parents in Western Europe, phoning home is on average 540 CZK
Age of children equipped mobile phone continues to decline. The Czech people are buying phones for children earlier than in most European countries. While the parents are buying us your child first device between seven and ten years of age, for example, in France there is a majority opinion that the child should own a phone in about 15 years. At this age it last year owned more than 70 percent of French youth *. Generally yet say that children from Central and Eastern Europe receive mobile phones a few years earlier than children from Western European countries. Data from international barometer survey Cetelem.
People very often do not hesitate to dig into their wallets when it comes to their child kept pace with fashion trends, and in particular that no one in the class who does not have a cell phone. The phone is increasingly becoming visible sign of membership of a particular social vrstvě.Podle many has the same predictive value, which until recently had designer clothes. In connection with the fear of social exclusion, the number of children who own a smartphone. According to a survey by European parents often prefer to save on your expenses, just to indulge in luxury phone child.
Along with the purchase of a mobile phone child but also the parents of rising costs associated with regular telephone calls, sending SMS or MMS, or connecting to the Internet via the phone. In the Czech Republic spends household for mobile telecommunication services on average between 460 to 625 crowns. Often they are only accounts for children. For example, our Slovakian neighbors spend some calls against us twice and copy the trend of western countries. Roughly one third of Czechs consider their spending while on mobile calls and services as too high. As for Slovakia, dissatisfaction with the amount of payments related to the use of mobile phone says half of the population.
According to the survey include telecommunications and the Internet in second place for products and services, without which people in today's society can not do without. First place occupied by food. Decision to reduce these expenses can quickly turn into a social handicap. For this reason, the amount you pay per month for mobile telecommunications less affluent and more affluent people, not very different. The difference is not over ten euros. Less affluent people, however, recognize that the phone charges are caprice, which greatly burdens the budget their households. 5pt "o: spid =" _x0000_s1026 ">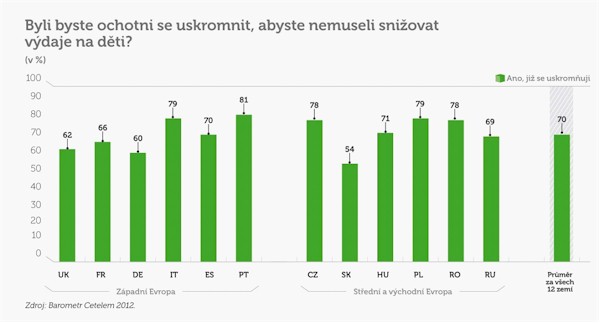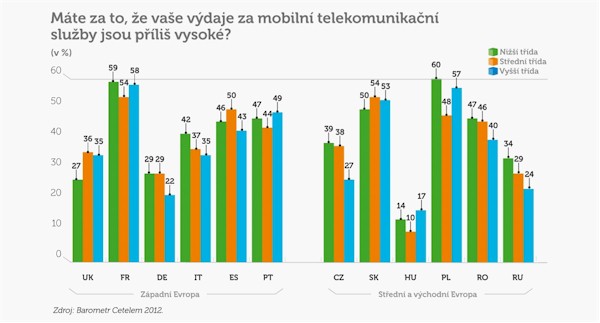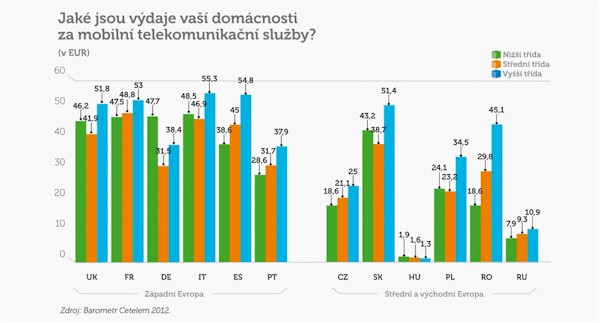 * The results of sociological research in the field of mobile communications, which implemented the French association of mobile operators AFOM in cooperation with the agency TNS Sofres.
About Cetelem Barometer 2011
International studies Cetelem barometer based on surveys of consumer attitudes and moods major European markets. Analysis and development forecasts prepared by research and advisory company BIPE.
Company CETELEM Czech Republic, asis a strong and stable company with a strong position in the Czech financial market, ranking among the most important non-bank credit products and services. Last year, the company celebrated fifteen years of successful activities on the Czech market for consumer loans. Throughout its history became an innovator and a pioneer in many areas, especially on the Internet. Cetelem was founded in October 1996 and commenced its business activity a year later in June. The basic principles of the company are from the very beginning of its operation principles of responsible lending. Cetelem is licensed credit institutions issued by the Czech National Bank. The license is proof that the company complies with the strict regulatory requirements similar to requirements imposed on banks and testament to the integrity and stability of the Czechfinancial market. The company offers a highly competitive portfolio of products based on responsible and individual approach to each client. Through its network of branches and network of business partners offer clients: classic consumer loans, provided at point of sale of goods and services, personal loans, credit cards, financing products for motor vehicles and various types of insurance.
Cetelem is a wholly owned subsidiary of the French bank BNP Paribas Personal Finance, which offers consumer loans since 1953 (until 2008 under the brand Cetelem).For more than 58 years of business gradually expanded its activities into the field more than three dozen countries on four continents. BNP Paribas Personal Finance is an international financial group BNP Paribas, one of the six strongest banks in the world and number one in the Eurozone, what is the volume of deposits is concerned.
---
---
Češi pořizují dětem mobily dříve než rodiče v západní Evropě, telefonování stojí domácnost v průměru 540 Kč
Diskuze a názory
Na dané téma nejsou žádné názory.