---
Markets
  |  October 24, 2012 10:33:26
Passed third score of the season. Tech sector is disappointing

Revenues and profits are moving at the same levels as a year ago. The non-compliance with operating cash flow decreased by nearly 9%. This indicates a deterioration in corporate liquidity in the U.S.. The individual sectors are disappointing technology. Decreased sales, earnings and margins.
Earnings per share: Emperor, who is naked
Despite the obvious shortcomings, which entails monitoring earnings per share (EPS) for the purpose of assessing the health of companies, is currently EPS during each earnings season in the spotlight of Wall Street, of course, a big help media.
Their results already announced almost a third of the companies included in the S & P 500 and At first sight, it is clear that its sales and EPS 42, respectively. 69%, by surprise.Not bad, but on the other hand, there is no reason to open champagne. EPS values ??are surprisingly high despite the evident slowdown worldwide.
Let's look at the aggregate data for the S & P 500 Sales are held more or less at the same levels as last year, as well as net income. A notable change is the cash flow from operating activities, which shows that the terms and conditions in accordance with the surveys and the actual data for the last 3-4 months worse. "Change in the amount of 8.7% of cash flow from operations does not seem to be large, but given that revenues and net income are unchanged level, it means that it is likely to cause significant changes in net working capital, which may indicatetightening of credit conditions for the global society. "said Saxo Bank equity analyst, Peter Garnry

Sectors: information technology recorded a decline in sales, net income and margins
If we turn attention to the combined numbers at the sector level, we find some interesting facts. In terms of sales are the most affected by the financial services industry and mining, which is not due to their dependence on the business cycle as no surprise. Previous growth engine in the information technology sector has stopped, which resulted in a decline in total sales. As for sales, the best in this regard, successful defensive sectors like ordinary consumer goods, healthcare and telecommunications, if we do not take into account the energy (fueled by higher energy prices), which is the winner in terms of salesseason.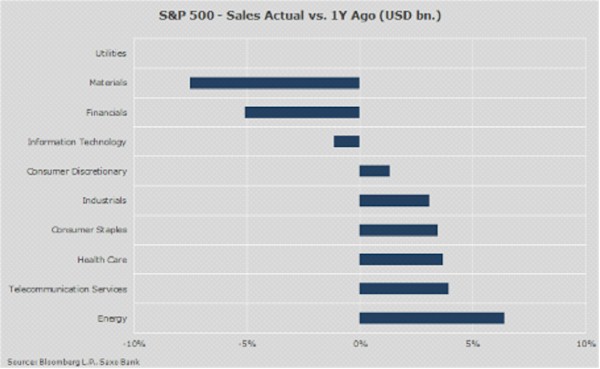 Measured by net income fell worst mining of raw materials, and information technology. Quite surprising is that energy declined gains, but due to the small number of published results may be the cause of some one-off items.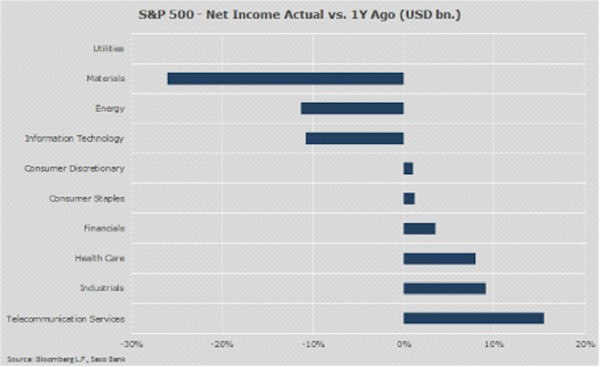 "If you look at the profit margins, the best results in the financial sector, which showed an increase in margins by approximately 1.5 percentage points. Worst fell again, information technology, where margins are dwindling. "Says an analyst.


Beleaguered technology sector, however, benefit yesterday's good results of Facebook, which is not yet reflected in the statistics. Most but in the overall sector results speak Apple, which publish the results tomorrow.

Globální online investiční banka
Saxo Bank je globální investiční banka specializující se na online obchodování a investice na mezinárodních finančních trzích. Saxo Bank umožňuje soukromým investorům a institucionálním klientům obchodovat s FX, CFD, cennými papíry, futures, opcemi a dalšími deriváty a poskytuje i profesionální správu portfolia a fondů díky svým online obchodním platformám oceněným řadou různých ocenění.
Více informací na: www.saxobank.cz
---
Last news from the section Markets:
---
Uplynula třetina výsledkové sezóny. Technologický sektor je zklamáním
Diskuze a názory
Na dané téma nejsou žádné názory.