---
Interview spol. Ertrag & Sicherheit and Franklin Templeton: Time for shares or why investors should now again take and where to invest your money
Horst Math Austrian Sales Manager in an interview with al. E & S, Ertrag & Sicherheit .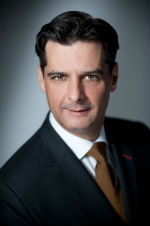 E & S: What is the significance for you have long-term cooperation with společnostmiE & S and JDC?
Horst Math (HM): For us it is important that we work together with professional and educated advisors. A advisorsErtrag & Sicherheit have these properties. A good counselor to himself determines high quality standard. Because he himself wants to be the best course provision. In addition, one of the distinguishing features of good service in the market. We offer events for clients, online presentation and telephone conference funded with our managers. I think that's it for our distribution partners generates transparency of investment strategies and thus the confidence in our products. This trust can then pass on to their clients.
E & S: Why should investořiinvestovatdo shares right now?
HM: Changing the stock market in 2008 and now permanently znejistila many investors. European debt crisis these concerns even more whipped. Consequence: a lot of money was deposited in fixed income products passbook or money market funds. Taking into account inflation, investors in this way consistently losing money.
Unfortunately, many investors do not recognize the positive developments in the markets, which is influenced in their decision of where to invest. For example, currently experiencing the lowest unemployment rate since 20 years, the economy is running well and the German export industry reporting record data. Also the willingness to buy is as high as in 2006. In doing so, nowadays many companies assembled better and can convince a very solid and liquid bilancemi.To sounds from my perspective, to buy shares very promising.
E & S: Which regions or trends do you think are the most promising, where to invest?
HM: Franklin Templeton Ltd. has identified a number of important global trends that may positively affect the future investment opportunities - especially in emerging countries.Middle class, especially in Asia, continues to grow. This important group of consumers own purchasing power to the new national economy continues to rapidly expand. A higher standard of living also increases life expectancy and consumption in rapidly developing countries. This should economic growth in Asian emerging countries to stimulate long-term. One of the other trends that should be monitored is the acceleration of urbanization. The growing need for infrastructure, transport and construction projects, increasing demand for raw materials, suppliers and technology. According to expert estimates, many benefit from this development primarily to developing countries - and the investors who invest in these regions.
E & S: What significance for the Franklin Templeton Eastern region?
HM: Because it al. Franklin Templeton Investments locally represented in many Eastern European countries, has for us, this region is quite specific meaning. In 2010 in Romania through the selection process took over management of Fondul Proprietatea.Fondul Proprietatea Fund is the largest state in Eastern Europe, with a total value of over € 3 billion of which are paid out in shares Romanians who were expropriated during the socialist regime.
In addition, the Franklin Templetonagencies in various Eastern European countries, on the spot where we actively support and provide guidance channel partners from Poland, the Czech Republic, Slovakia, Hungary, Romania and other Eastern European countries.
E & S: Franklin Templeton Investments manages global property funds worth almost € 550 billion. To what extent profits Franklin Templeton in Austria from the strong global market presence?
HM: First Franklin Templeton benefited from strong in Austria promote their brands and products on the market. Our expertise, global equities, equities, emerging markets and global bonds give us the possibility of wide spread.
Local presence is for all teams Franklin Templeton deciding factor. Analysts and fund managers have more than 60 offices in 34 countries.
Portfolio managers, analysts and product specialists gather information first-hand, detailed knowledge about companies, markets and entire economic sectors.
E & S: Thanks for the interview!
Company Ertrag & SicherheitVermögensberatung Ges.mbH (hereinafter referred to as E & S), headquartered in Graz (Graz) in Austria, is one of the leading property consultants. He specializes in building long-term wealth through investment vehicles focused on material values. The company has more than 50 offices around Europe.
In the investment advisory and brokerage financial instruments (such as investment funds) consultants working spol.Ertrag & Sicherheit behalf and therefore Private securities trader, society Jung, DMS & Cie. GmbH (hereinafter referred to JDC). E & S and JDC thus form a strategic partnership that is optimally complemented.
The information contained in this article are the basis for any investment or other decisions.
---
---
Interview spol. Ertrag & Sicherheit a Franklin Templeton: Čas pro akcie aneb proč by měli investoři nyní opět nastoupit a kam investovat své peníze
Diskuze a názory
Na dané téma nejsou žádné názory.